Can we talk for a second about the Human Experience?
The other day while I was waiting for a company car to pick me up and take me to the airport after a conference where I'd been a guest speaker. I decided to walk through my old neighborhood to grab some food. Along the way, I passed by this gentleman sitting in a wheelchair holding a sign asking for food. So like any decent human being, I went into the restaurant and bought him lunch.
While we were sitting there eating lunch together, we started to talk about our lives and ironically, we both started in the same place of town, with the same resources and same dreams. We each fought our way out of the "hood" and into good jobs. We both eventually fell in love and got married and made a home for ourselves. I guess you could say we were both living a good life.
What about the American Dream?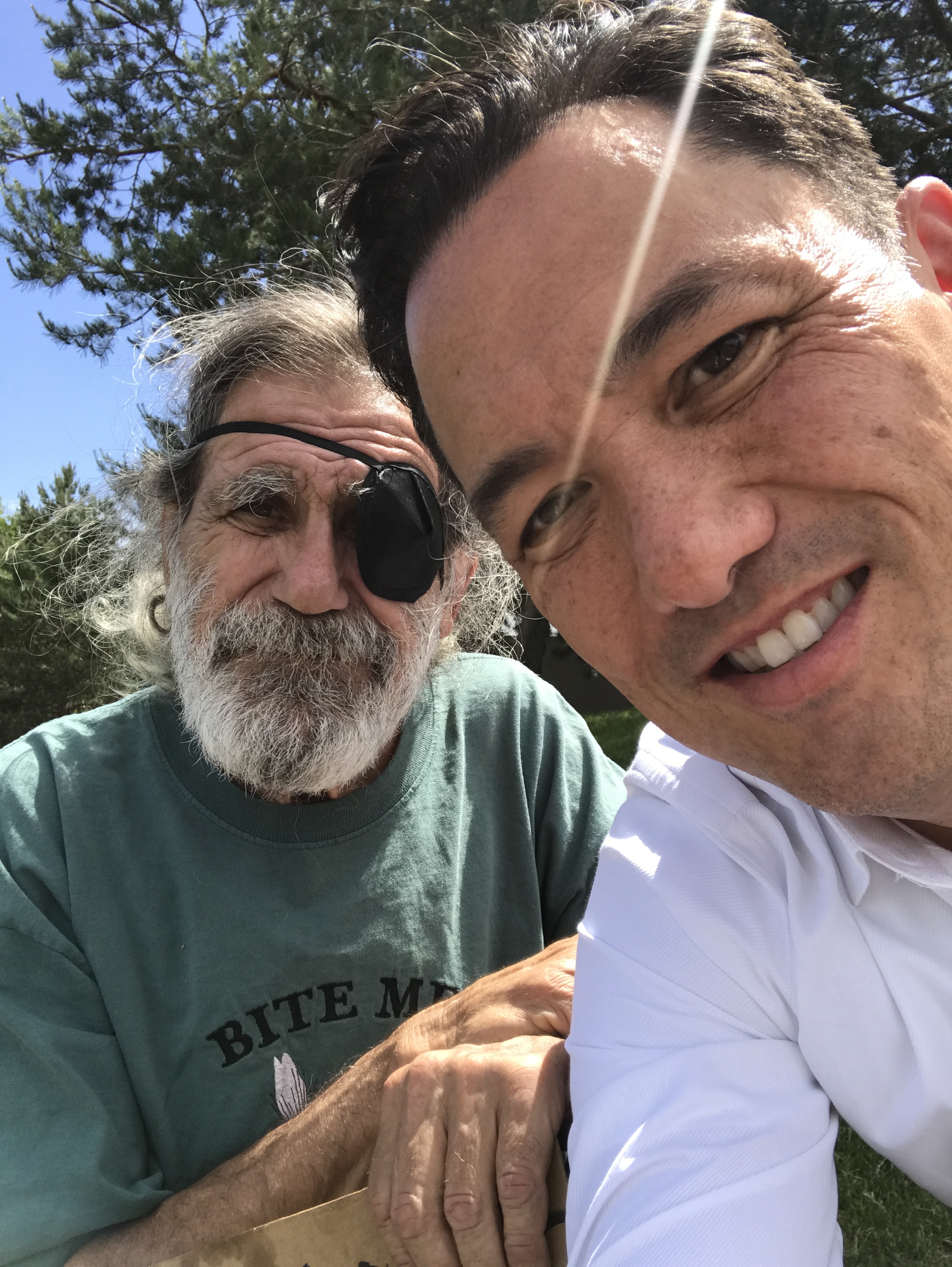 With the same hopes and dreams
Meet Margarito Torres. He is on a two-year waitlist for housing assistance. He doesn't drink or do drugs. He has diabetes. He receives a small disability payment every month that won't cover his cost of living and he's not alone.
Years ago, diabetes took his entire family from him and eventually, his eye too. After that he lost his job, and as you can imagine, without any an eye, it's wasn't so easy to earn the kind of income you once had. His options became limited, and ultimately, his wife left.
At this point, the path of his life changed and eventually found him sitting on a street corner with me, sharing lunch from Kentucky Fried Chicken. So here we were, two men, roughly the same age, same history breaking bread together, talking about our lives. Becoming friends.
As I sat there on the asphalt with Margarito, eating those chicken tenders in the back of the KFC lot, I started thinking about my life and how we started at the same place, our lives took totally different directions (for now anyway) and yet, somehow we ended up here together. We actually still have a lot in common today, as we're both grinding it out 24/7 to stay alive, and yet, we live entirely different existences.
I guess you could say that I can completely relate to this man and in many ways, I see myself within him. However now, a critical difference between us is that I live in a home and he's on a two-year waitlist for one.
Closing a the two-year gap to find a place to live
Since my everyday job is to connect the dots between people and enable organizations to streamline, optimize, or insert other business buzzwords here, I decided to write about this "experience."
Here's a look at Margarito's Journey through the lens of (HX)
For me, there rarely comes a time where I'm not thinking about how teams can work more closely together, organizations can connect operations in better ways. I focus mostly on creating alignment among regular "human beings" and strive for those new alignments to become the genesis of a better "customer" or in this case "human" experience.
Let's look deeper at the process and the two-year wait period
It needs to be said that there are a lot of people, organizations, and communities working on the issue. As I did some research, there were tons of people trying to solve the problem. If you want to get another take on the conversation just click here to learn more.
For now, let's just focus on a few major players who are in it to win it.
The Denver Voice:
The Colorado Coalition For The Homeless
Now let's take a high-level look at some pieces and process
In this process diagram, you can see that it all starts with the people of the community and legislation. Next time your hear about a vote to help the homeless, maybe you take a minute to consider if you should get out there and vote.
Meanwhile, The Denver Voice provides immediate assistance where the homeless can "drop in" to start the path back to their American Dream.
Next, there's the Colorado Coalition for the Homeless who provides shelter at night along with other services, but, they are not able to help for any length of time and are already over utilized and under resourced.
The group that's probably doing the best job for Denver's homeless is the Salvation Army who has a program to provides short term housing and support, along with clothing and other services to streamline a person's path back to employment and housing.
Helping to close gaps everywhere, all over the city there are private organizations like churches who don't have a wide reach, however, their services and support are rich in offerings and deep with assistance.
Put this all together and you have a basic view of the two-year process. The problem is, they are operating in a bunch of silos. Not unlike almost every other organization in the world. The important thing to understand here, is that a bit of teamwork can make a big difference if we know where and how to plug in and help create change.
Here's where you fit in:
If you feel like a two-year waiting period to find a place to live is longer than it should be, then let's try to work together to make a difference. For instance, just like showing up in droves to support legalized weed, Coloradan's in Denver can show up and vote to pass legislation like to the right to survive bill.
Don't get me wrong. I know that change is difficult and transformation happen's slowly, however, it all starts with collaboration and alignment. Teams, communities and people jumping in to help.
Here's how you make a difference and help shorten the two year time period for Margarito and others.
You ready to jump in on your own and do something?
For resources on implementing Housing First in your city, please see United States Interagency Council on Homelessness and Pathways' training page. For information on implementing ACT, see the Substance Abuse and Mental Health Services Administration Toolkit. For recommendations on addressing behavioral health, please see this piece by The Harvard Kennedy School Government Performance Lab (GPL).
And if you simply just want to help Margarito
When I asked him how I can help him, he told me that he checks in every month at the Colorado Coalition for the Homeless.
He asked me to get his story out there. and let people know that you can stop by the Colorado Coalition for the homeless and leave something there for him and he'll get it whenever he checks in next.
Here's where the Colorado Coalition is located:
2111 Champa Street
Denver, CO 80205
Phone: (303) 293-2217
Fax: (303) 293-2309
Email: info@coloradocoalition.org